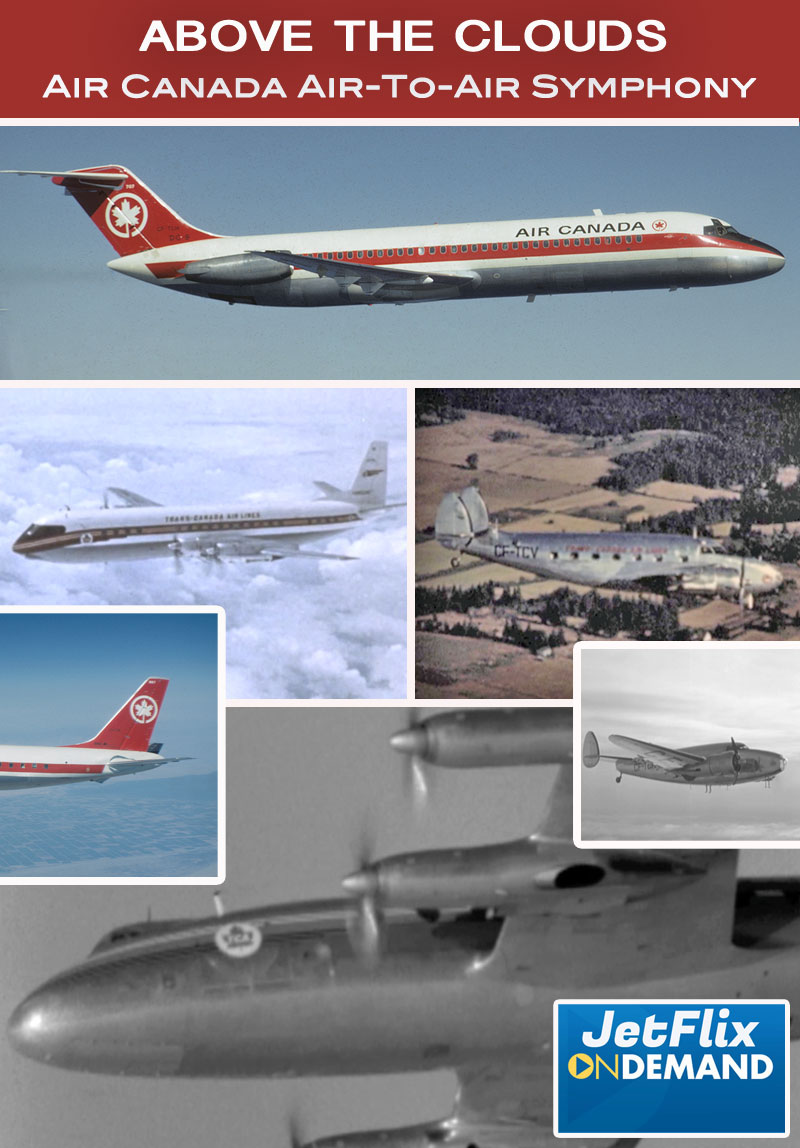 JetFlix TV creator Henry Tenby narrates an amazing air journey above the clouds, as he shares the history of Air Canada's first thirty to forty years from their founding in back in 1937, by use of very rare, archival air-to-air inflight movie films Trans-Canada Air Lines and Air Canada airliners from the golden age.
The films present much "never before seen footage" of Air Canada and TCA airliners inflight, and were sourced from a number of sources including the National Film Board of Canada, BAe Systems in the UK, and much of the footage was digitized at great expense and effort by Henry Tenby in 2012 in cooperation with the Government of Canada archives in Ottawa at the Museum of Science and Technology.
The full 27 minute show features the following airliners of TCA and Air Canada:
Lockheed Lodestar CF-TCT, CF-TDC, CF-TCV, CF-TDD
Lockheed 14 Electra CF-TCH, CF-TCG
Avro Lancastrian CF-CMW
DC-3 CF-TEE
DC-4M2 NorthStar CF-TEO
Vickers Viscount CF-TGI
Vickers Vanguard CF-TKA
DC-9-14 CF-TLF
DC-9-32 CF-TLJ
DC-8-50 CF-TJM
DC-8-40
Boeing 727-233 C-GAAB
an unidentified L-1011-193
Air Canada's first to be delivered Boeing 747-133 CF-TOA
We hope you enjoy the short teaser video presented above. The full run version of this very interesting period film can be viewed by JetFlix members. You can support our airline filming and historic film preservation efforts here at JetFlix TV by becoming a JetFlix TV member, for a very small out of pocket cost, which brings some very nice additional "members only" perks.