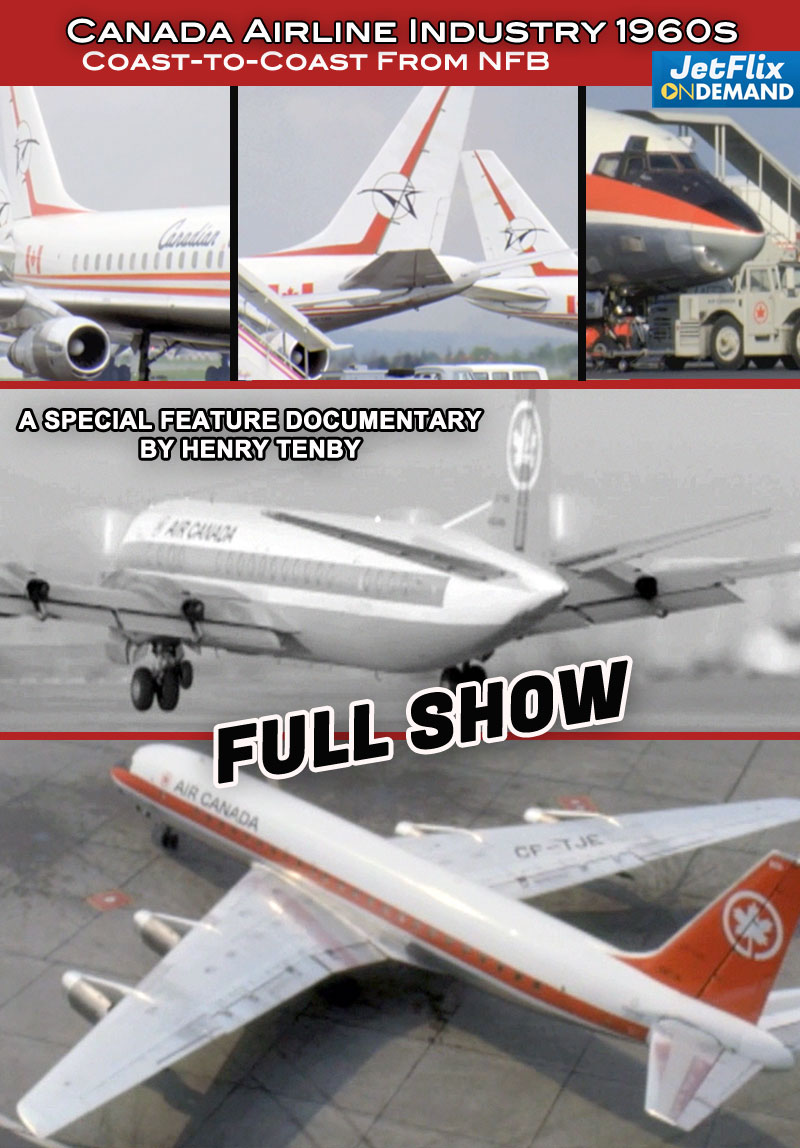 It was an 8 year effort that JetFlix founder Henry Tenby invested into the research and production of what is most certainly the most comprehensive documentary on the 1960s Canadian airline history ever produced. At JetFlix, we are pleased to present this exclusive presentation specially for our members.
JetFlix members have a viewing choice: they can stream this 1960s Canadian airline documentary as either as a single 69 minute feature length presentation, or as a three part mini series. Without doubt, the footage is so interesting and unique many viewers will want to watch it over and over again as there is so much to be absorbed, and it is not possible to fully appreciate all the fine details of the film on a first viewing.
The part 1 of the show takes us back to the very early 1960s, when the first Douglas DC-8s were delivered Trans-Canada Air Lines nearly one year ahead of the first Vickers Vanguard, due to frustrating production delays on the Vanguard primarily due to Rolls Royce Tyne engine performance. Our film opens at Montreal's Dorval Airport where we spend much of the time witnessing the arrival, ground servicing, grooming, and departures of TCA's first DC-8s. But we also travel to Weybridge, Surrey in England to witness the delivery of one of the last Vickers Vanguards to TCA, which includes the obligatory hand shaking during the formal aircraft hand over ceremony.
This film was entirely shot on 16mm kodachrome cine film, but the first part was shot at a slow film rate. So we had to digitally increase the speed to proper levels, which resulted in a slight stutter in some of the footage. But we feel this is a minor inconvenience given the rarity of the footage, and we hope you will agree. The source film for this documentary came from a number of sources including Air Canada's own archives, which we digitized some years ago after the cine films were donated to the Government of Canada Archives in Ottawa, as well as from the NFB, and our special friend and correspondent in the UK, the famous aviation book publisher Scott Henderson of ScovalPublishing.com.
Presented below is a fascinating selection of screen shots of images from the very film.