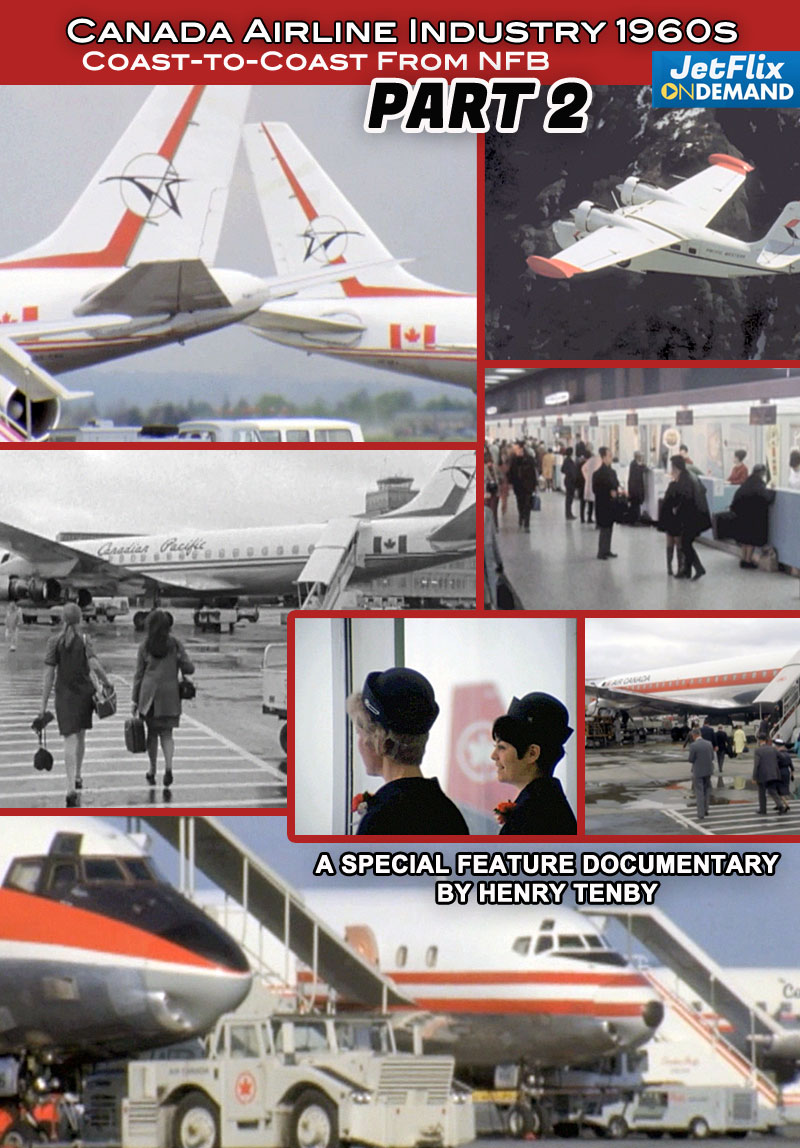 At JetFlix TV we are pleased to announce the release of a three part mini series on the developments of the Canadian airline industry throughout the decade of the 1960s. This documentary is exclusive to JetFlix TV as it was produced by JetFlix TV founder and life long airline fan Henry Tenby.
The production of this film was some eight years in the making as original high quality films had to be sourced from a variety of hard to access sources, include the Air Canada archives which was donated to the Government of Canada, the NFB and other private sources including Scott Henderson, the famous UK aviation book publisher.
It was important to use only the highest of quality of 16mm movie films, and not use any low quality 8mm film. We wanted to the end result to be as close to movie theatre distribution quality that we could possibly get, given that we were working on a very very small self-financed budget, without the luxury or comfort of a government small producer film credit, which these sorts of films typically benefit from at the outset.
Growing up flying on CP Air DC-8s and Air Canada DC-8s, Viscount and Vanguards, these aircraft are some of the fondest memories of the producers early years, so it was only natural that he wanted this production to be the best it could be given his limited resources.
During the 1960s, airlines in Canada evolved from the prop age to the jet age, with most of the front line prop driven airliners like the NorthStars, Connies, Viscount and Vanguards having been largely been retired by the front line operators by the close of the decade. We decided to split the 69 minute film into three three shorter segments as a more convenient viewing option via streaming on JetFlix TV.
In this exciting segment, fans of the short body DC-8 will appreciate the high quality colour onboard footage of meal and drink service aboard an Air Canada DC-8-43 circa 1965, and we then travel to Vancouver's old South Terminal for a visit in the summer of 1967, when the crowded apron was loaded with CPA and Air Canada DC-8s, an Air Canada Vanguard and DC-9-14, and a PWA Lockheed Hercules. This is magical footage you will enjoy watching over and over again, as it brings back those special memories for you, which are rekindled after so many decades. There is almost no existing footage of Vancouver's South Terminal from the 1960s, so this is truly a magical find that we take great pleasure in presenting for your exclusive viewing here at JetFlix TV.
Below, we present an interesting selection of screen shots of images from the very film.