Watch the teaser video above or CLICK HERE to join JetFlix TV and view the whole show.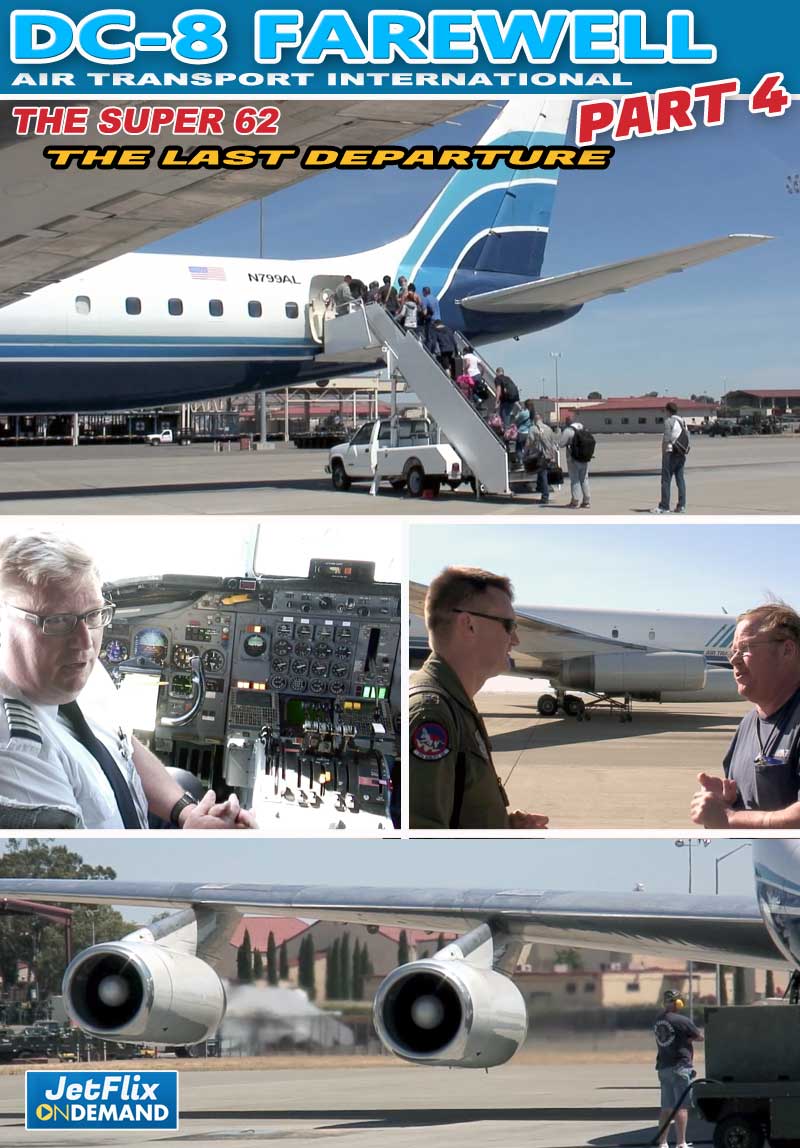 << SEE SCREENSHOTS BELOW>>
In May of 2013, JetFlix founder Henry Tenby visited Air Transport International to document some of the final flights of their DC-8-62 passenger combi prior to replacements with newer 757 aircraft. Henry Tenby spent several days filming their DC-8-62 operation in California prior to the aircraft's final departure from the Continental United States. This market the end of the line for worldwide passenger carry scheduled DC-8 operations.
Join us here on JetFlix TV for this amazing 9 part DC-8 Farewell mini series, which includes 5 special extra bonus videos.
In this episode number 4, we filmed the full ever live turnaround of the ATI DC-8-62 at Travis Air Force Base on May 12, 2013.
The last flight ATI DC-8 flight crew consisted of Captain Brad Watts, First Officer Stephanie Swain, Flight Engineer Scott Olson, and Flight Attendant Sandra Lucas-Detricks.
This 54 minute show starts with the trademark howl of four JT3 engines marking the landing and taxi in of the ATI DC-8-62 N799AL. Whilst the aircraft was loaded with cargo and serviced for the continuation on to Hickam Air Force Base in Honolulu, Hawaii, this gave us an opportunity to comprehensive document this fine classic jetliner from many perspectives.
ATI Maintenance Engineer Phil Sisco took time to explain the JT3 engine intermix configuration of this particular DC-8. We then spoke with Flight Attendant Sandra Lucas-Detricks about her experiences working on the DC-8.
The beauty of the DC-8-62 combi is that not only can it carry passengers, but a large forward main deck freight hold can carry a large volume of cargo. We filmed the cargo loading of the aircraft on the Travis apron, and then spent some time in the cockpit where we spoke with all the flightdeck crew members to learn about their interesting careers and memories of working on the DC-8.
Next it was time for the passengers to board the aircraft, afterwhich we filmed the full engine start, taxi and departure.
In a nutshell, when it comes to filming this live DC-8-62, we left no stone unturned. We hope you will agree that our over-the-top efforts to capture this classic four engined 1960s era jetliner in all her glorious splendour, were necessary to preserve the DC-8-62 on film like it has never been filmed before!
The full version of this video stream here on JetFlix TV.